But a new record low for the year is now considered unlikely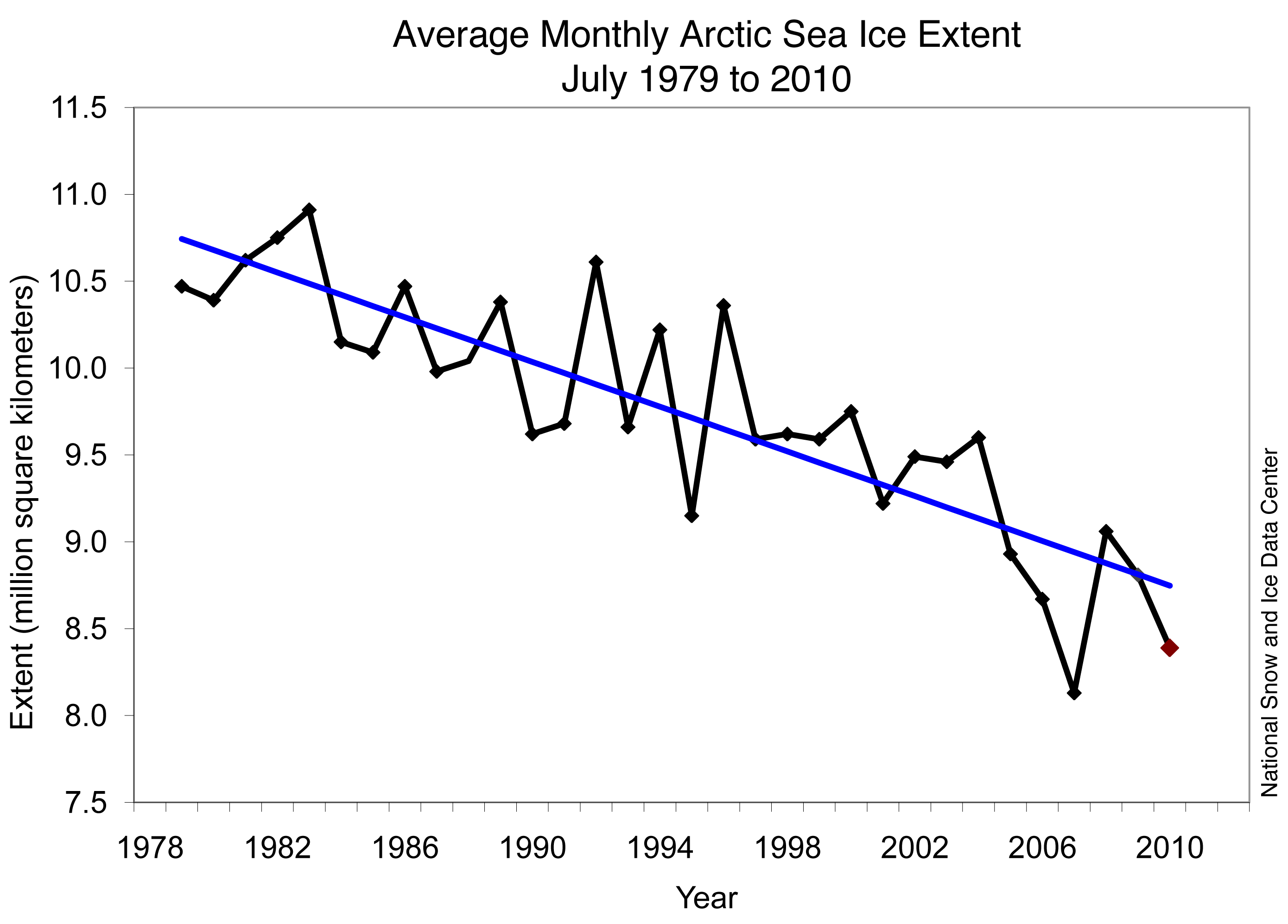 The linear rate of decline of Arctic sea ice in July between 1979 and 2010 is now 6.4 percent. (Graphic:
National Snow & Ice Data Center
)
As fires continue to burn in Russia, and news emerges from Greenland of astonishingly rapid melting of glaciers, the National Snow and Ice Data Center reported today that Arctic sea ice in July reached its second lowest extent on record for that month.
The NSIDC report also noted that old ice — four years and older — is melting in the southern Beaufort Sea, "which could further deplete the Arctic's remaining store of old, thick ice."
Cool and stormy weather in July has reduced the likelihood that the annual sea ice minimum, usually set in September at the very end of the melting season, will reach record low levels. To beat the record low minimum set in September of 2007, sea ice would have to decline at a precipitous rate. It has happened before. If sea ice were to decline in August at the same rate it did in August of 2008, a new record for the annual minimum may be in store. But what actually happens will depend to a large degree on the weather between now and then.
Another report, from the Study of Environmental Arctic Change, suggests there is a 29 percent chance of  sea ice extent shrinking to a new record minimum in September.
Meanwhile, weather forecasts in Russia offer no hope for a respite from the heat and drought that continue to exacerbate deadly wildfires and threaten the nation's wheat crop. The fires have blanketed Moscow in a pall of smoke and smog up to ten times higher than safe levels. The brutal conditions are not expected to break for at least seven to 10 days, according to a report in the Wall Street Journal.
Russia is a major wheat exporter, so the threat to the nation's crop is pushing up wheat prices."Traders are worried that scorching heat and dryness may push Russia to ban wheat exports and could hinder plantings of the next crop this autumn," according the Journal article. This is helping to push up global wheat prices, which have risen 71 percent since June. The Journal reports that there are growing worries of a global shortage of the grain.