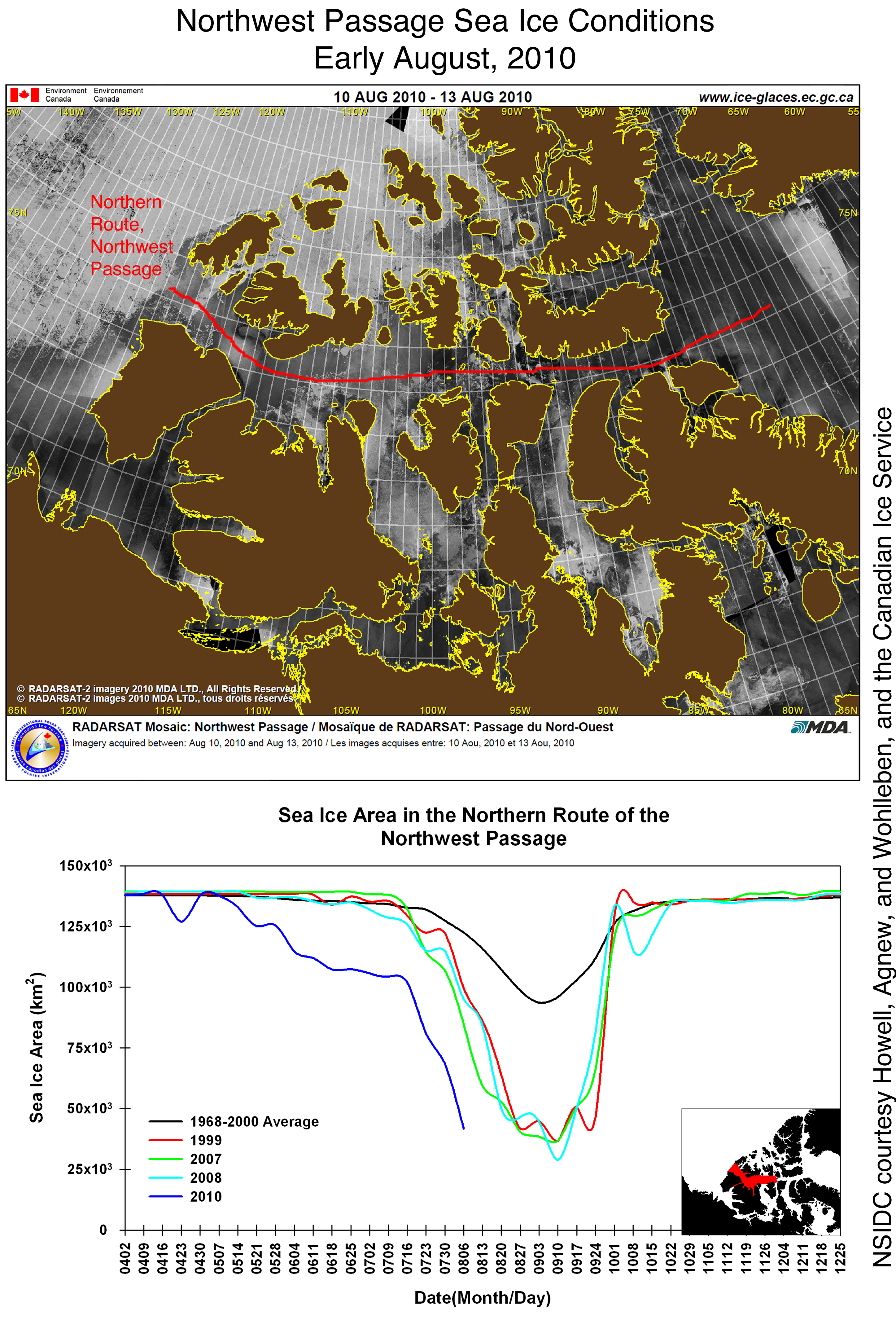 This quote from today's National Snow and Ice Data Center's update on Arctic sea ice caught my attention:
Conditions in the Northwest Passage are quite variable and do not necessarily reflect overall conditions in the Arctic. However, today's conditions in the Northwest Passage would likely astonish 19th century explorers such as McClure, Franklin, and Amundsen. In upcoming decades, the passage will be increasingly likely to open during summer.
According to NISDC, sea ice in the Northwest Passage are "very light," with the northern route "currently well below the 1968 to 2000 average and almost a month ahead of the clearing that was observed in 2007 . . ." Meanwhile, there is still "a substantial amount of ice" in the southern route of the Northwest Passage.
Overall, the sea ice extent in the Arctic is very low. As of today — with one month remaining in the melt season — only 2007 and 2008 had less ice coverage.
The images accompanying this post (click on them for a larger version) depict the state of sea ice in the Northwest Passage. The top image is from the Canadian Space Agency's RADARSAT-2 satellite. According to NSIDC, "although the passage is not completely open, sea ice cover is light. Bright, circular and other sharply defined shapes are sea ice; dark grey indicates calm ocean; white smudged regions are areas of ocean that have been roughened by winds." The bottom image is a graph of ice area in the northern route of the Northwest Passage. The blue line indicates the area of sea ice for 2010, compared to average (in black) and to previous low ice years. As the track of the blue line indicates, melting in this arm of the Northwest Passage began early and has exceeded the melting of previous years.