Since 1970′s, Arctic sea ice extent has shrunk 30%. This summer alone, an area the size of Alaska disappeared, relative to the long-term average for summer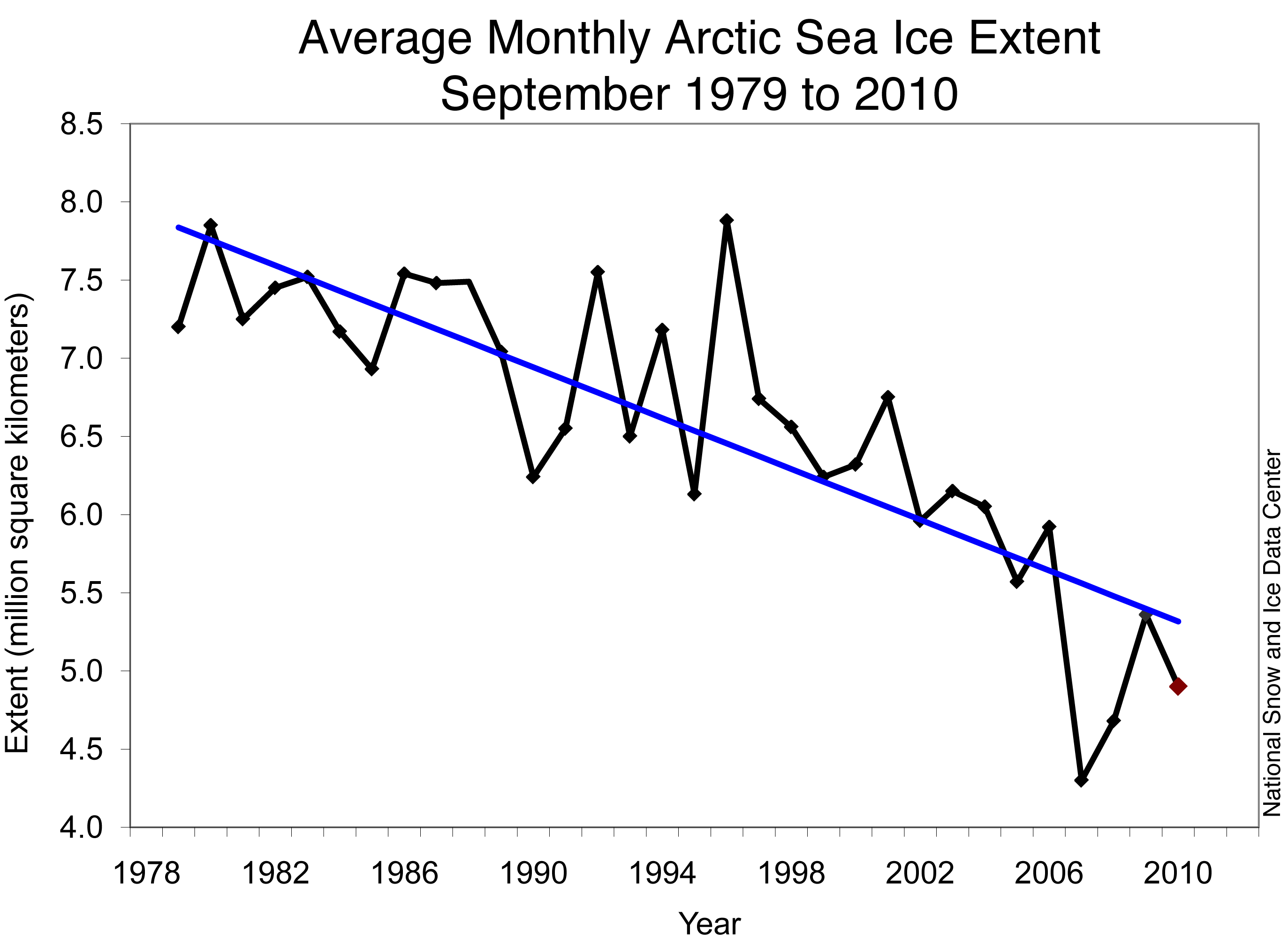 Update 10/5/10: Since I posted this piece last night, I've inserted some comments from Mark Serreze, whom I interviewed yesterday for "How on Earth," KGNU radio's weekly science show. You can find the audio of the interview here. (The link provides access to the entire KGNU Morning Magazine show. For the Serreze interview, please go forward to about 14 minutes and 20 seconds into the program.)
It's now official: Arctic sea ice reached its third lowest extent on record in September, the National Snow and Ice Data Center announced today.
Only 2007 and 2008 recorded less ice.
"This is continuing the downward decline," says NSIDC director, Mark Serreze. "It says that climate change is happening."
Arctic sea ice is now declining at 11.5 percent per decade relative to the 1979 to 2000 average. Since the 1970′s, 30 percent of the ice has disappeared. "Think of, say, losing the 23 states east of the Mississippi — something like that," Serreze says. "That's what we're talking about."
The difference between a typical extent of Arctic sea ice in September and the minimum that was actually reached on September 19 is an area roughly equal to the state of Alaska. "That's how much we lost this summer compared to where we should be in a typical year," Serreze says. "So this is a lot of real estate that we're talking about."
Modern satellite observations of sea ice go back to 1979. But Serreze says there are older data that can help put the continuing decline in a longer temporal context:
. . . we can extend back a rather accurate record of sea ice using earlier forms of satellite data, using things like aircraft reports, ship reports — back to the 1950s. So we've got at least 60 years of data. 2007 was the lowest in at least 60 years, probably longer. Then 2008 was the second lowest; 2009 crept up a little bit. There were, of course, people saying, 'Nothing to worry about, we're on the road to recovery.' 2010 was telling us well, no, that was quite a temporary blip, and I'm afraid we're on the way down.
University of Washington researchers have found that over the past few years, sea surface temperatures have been warmer than the long-term average in the Arctic. NSIDC's update attributes the rise to the steady loss of ice. With less ice in summer there is less reflection of sunlight — and more absorption of incoming solar radiation by the dark ocean surface waters.
As more ice melts and the surface waters warm, there could be follow-on impacts. In addition to affecting animals such as polar bears, and accelerating the coastal erosion in Alaska and elsewhere that has already been seen, "what we're starting to recognize is that the effects of losing the ice are likely to extend well beyond the Arctic," Serreze says.
Basically the Arctic acts as this big refrigerator of the Northern Hemisphere. That's where it's cold, of course. And it's cold because there's ice. But if we lose that ice we start to change the nature of the refrigerator. And everything will have to respond to that because the climate system is intimately coupled together. What I'm talking about is that when we lose that ice, we could start to see impacts on, say, weather systems that could extend down to middle latitudes — potentially Boulder, for example . . . We might have less severe cold outbreaks. We may change precipitation patterns . . . There will likely be change here. Maybe some aspects of that will be beneficial; there's other aspects of that which are not so beneficial.
Ice volume, as opposed to its geographic extent, is another way of assessing what's happening in the Arctic. It's difficult for scientists to calculate, but one indication is the age of sea ice. Younger ice tends to be thinner. That means the greater the proportion of younger sea ice, the lower the overall ice volume. And not surprisingly, the proportion of young sea ice in the Arctic has increased dramatically, according to NSIDC:
At the end of the summer 2010, under 15% of the ice remaining the Arctic was more than two years old, compared to 50 to 60% during the 1980s.
As Serreze puts it:
What we've found is that the age of the ice is getting younger and younger and younger. And we're . . .  getting to this point now, in 30 years, 20 years maybe, where none of this so-called multi-year ice survives anymore. All [we'll have] is this first year ice, the stuff that grows through autumn and winter but will completely melt out in summer.
Here's a graphic showing the trend in the age of Arctic sea ice: